by Julie Murphy
Reviewed by SA
Dumplin' has been a book I've been wanting to read for ages. Friends have been recommending it to me since before it even came out. I finally caved and bought myself a copy – taking a risk (if you can call it that!) and getting a nice, lovely hardcover copy. I think I kind of had a designer crush on the cover. After finishing the book, there are a few things I can be certain of:
This was not at all what I expected;
It was way better, amazing, and unforgettable;
I am so glad I have a gorgeous hardcover!
Summary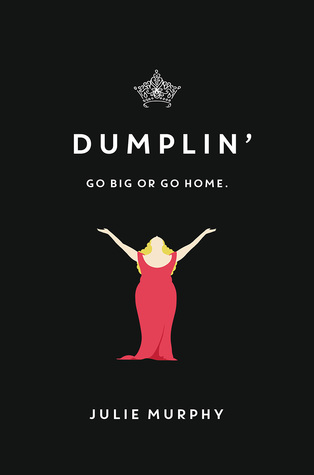 Self-proclaimed fat girl Willowdean Dickson (dubbed "Dumplin'" by her former beauty queen mom) has always been at home in her own skin. Her thoughts on having the ultimate bikini body? Put a bikini on your body. With her all-American beauty best friend, Ellen, by her side, things have always worked…until Will takes a job at Harpy's, the local fast-food joint. There she meets Private School Bo, a hot former jock. Will isn't surprised to find herself attracted to Bo. But she is surprised when he seems to like her back.
Instead of finding new heights of self-assurance in her relationship with Bo, Will starts to doubt herself. So she sets out to take back her confidence by doing the most horrifying thing she can imagine: entering the Miss Clover City beauty pageant—along with several other unlikely candidates—to show the world that she deserves to be up there as much as any twiggy girl does. Along the way, she'll shock the hell out of Clover City—and maybe herself most of all.
With starry Texas nights, red candy suckers, Dolly Parton songs, and a wildly unforgettable heroine—Dumplin' is guaranteed to steal your heart.
I'm always slightly wary of books that deal with body image: they can sway one way, and end up telling you that as soon as you start feeling better for yourself, you'll start loosing weight and turning 'hot', or they can swing to the other side of the spectrum, and bring on a landslide of skinny shaming. Dumplin' does none of those things. While at first, Willowdean points out the imperfections in those around her, she grows over the course of the novel.  Will stops herself from skinny shaming others, loves her body even if she is insecure in it sometimes. I found it to be the perfect book dealing with teenagers and body image issues.
What really impressed me was how secondary the pageant seemed. What took center stage was Willowdean's own life, her own crushes and friendships, her worries and loves, her own life. And her life is so much more than the pageant, even if we only get this small glimpse into it. Yes, there is a love triangle, and yes, there is some friendship drama: but all of these seem to be part of the fabric which makes up her life, instead of being barriers. They give depth and dimension to the story, and to her character, which made me really get pulled into the book.
Will is a fantastic protagonist. And I mean fantastic. She's flawed, she's self conscious, but she's also brave and outspoken and incredibly insightful. There were some quotes of hers that I want to write on my wall so I can never stop thinking about them. She's someone you can really relate to, that you can really understand.
But my favorite aspect of this novel was the relationships. The friendship between Will and Ellen is the real story, in my opinion. The pageant just offers framework. It's a love story, in a way. The more I think about it, the more I'm sure of it. It's the love between two best friends who hit a rough patch and have to deal with growing up and growing apart. It's so rare to see friends actually tell each other that they do love each other, and really mean it. I loved their story.
If you haven't read Dumplin' yet, then I strongly suggest you do. It's a book I 100% recommend with all my heart. It's got everything you want in a book – including some Dolly Parton adoration – and I want to lend it to everyone I know.
Fair warning – I've had Jolene stuck in my head for days now!