What a fun little gem of a book! Having just read Six of Crows for the first time only a week ago, I found the resemblance startling – but in form only. The story is rich and fast-paced, with all the magic Chokshi brings to her books. It was exciting to see her take the magic of her usually Indian inspired novels and bring them to Paris, nothing lost in the transition. Her rich worldbuilding and colorful detail made this book a joy to read.
Summary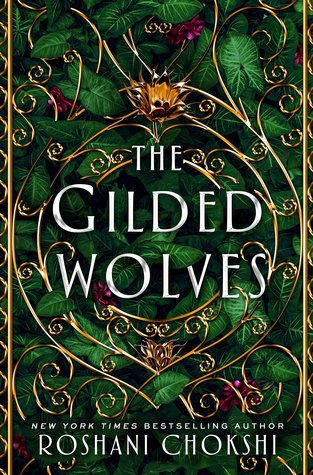 Set in a darkly glamorous world, The Gilded Wolves is full of mystery, decadence, and dangerous but thrilling adventure.
Paris, 1889: The world is on the cusp of industry and power, and the Exposition Universelle has breathed new life into the streets and dredged up ancient secrets. In this city, no one keeps tabs on secrets better than treasure-hunter and wealthy hotelier, Séverin Montagnet-Alarie. But when the all-powerful society, the Order of Babel, seeks him out for help, Séverin is offered a treasure that he never imagined: his true inheritance.
To find the ancient artifact the Order seeks, Séverin will need help from a band of experts: An engineer with a debt to pay. A historian who can't yet go home. A dancer with a sinister past. And a brother in all but blood, who might care too much.
Together, they'll have to use their wits and knowledge to hunt the artifact through the dark and glittering heart of Paris. What they find might change the world, but only if they can stay alive.
Musings
Chokshi has created an alternate Paris where magic is commonplace and the Order of Babel retains control. Babel pieces hidden from the world allow forgers to create beautiful and dangerous items, which give this alternate world technology similar to ours. It is here, in the lavish hands of the order, that our story takes place.
The crew of this Oceans-Eleven-Meets-Indiana-Jones-with-Magic book is diverse and easy to relate to:
Séverin, the heir to the third house of the French Order of Babel, stripped of his title due to nefarious reasons and politics. He owns a hotel, L'eden, and secretly runs heists to steal the most remarkable forged objects the world has ever seen, along with his team.
Laila from India, with an ability to read people's history while holding an object of their possession, with an amazing talent for baking and one of the best dancers Paris has ever seen. (Can she be my best friend, please?)
Enrique, the Spanish/Filipino historian with a great sense of sarcasm and who occasionally remembers how to act human.
Zofia the mathematician/engineer of Polish Jewish descent, kicked out of university for her dangerous magical affinity, who only seems to tolerate people and would much rather ber tinkering.
Tristan, the recluse botanist, and who is a very recluse sort of person, with his gigantic pet spider he seems to love more than anyone else.
And unoficially, Hypnos, heir to another French House, a French aristocrat of mixed race, which doesn't sit well with his peers, making him defy expectation at every turn.
Together, they need to solve the clues to basically save France, using their own set of skills. It involves cunning, deceit, and a fair bit of math, along with amazing forged gadgets a bit à la James Bond with a scoop of magic. You get to know each of the characters just enough to relate to them, though I wish I had more time to know them more. If I had one disappointment to say of the book, it would be that it was too fast: in some places, it got confusing because the action piled up and the points of view were all over the place, and it could have been paced down to show us more about the characters and their past.
All and all, I'm getting the hardcover. This book is sure to be a hit and I can't wait for the sequel!
Expected publication: January 15th 2019 by Wednesday Books
But I still have no idea why the book was called The Gilded Wolves 😛