Reviewed by SA
I didn't think I'd find another thrilling science fiction book this summer, but I was proven wrong the second I picked up this amazing novel. Thrilling, intriguing, smart and most of all, fun, this novel rocketed up high on the list of my favorite books of 2015. There's so much to love about this novel, and if you're looking for one last book to read this summer, make sure it's Zero World.
Technologically enhanced superspy Peter Caswell has been dispatched on a top-secret assignment unlike any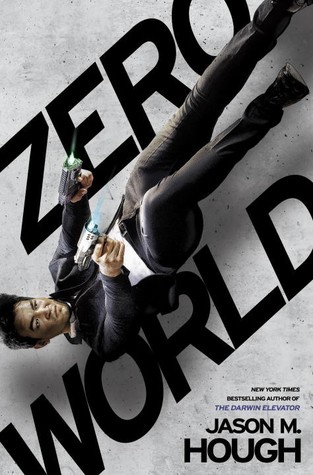 he's ever faced. A spaceship that vanished years ago has been found, along with the bodies of its murdered crew—save one. Peter's mission is to find the missing crew member, who fled through what appears to be a tear in the fabric of space. Beyond this mysterious doorway lies an even more confounding reality: a world that seems to be Earth's twin.
 
Peter discovers that this mirrored world is indeed different from his home, and far more dangerous. Cut off from all support, and with only days to complete his operation, Peter must track his quarry alone on an alien world. But he's unprepared for what awaits on the planet's surface, where his skills will be put to the ultimate test—and everything he knows about the universe will be challenged in ways he never could have imagined.
The basic premise of the novel – if it can even be called basic – is what really got me. I hadn't read the blurb before picking up the book, so it started off as a particularly well written novel about an assassin whose memories are wiped after every mission. Already pretty cool. But only a chapter or two in, they send you into space. Then the author ads the extra dimension of a TWIN EARTH. And then… then it becomes much more. I was, in a word, captivated.
I seriously could not put this book down: I wanted to know everything, about this new world, about the mission. So much happens in such a small amount of time! There's no time for the novel to slow down, it keeps going strong, against the clock, forcing Peter to push himself to his limits. It's so fast paced you'll need running shoes to keep up.
It's amazing that in such a fast, action packed novel, there is still room for character development. Peter begins as a hardened assassin, but as details of his mission start to change, he does too. It's almost as if he is an entirely different man from one minute to the next, and the man at the end of the novel is not the man we met at the very start.
Melni, the woman from the alternate earth, is an amazing woman, and develops alongside Peter during the course of this story. She too begins hardened and focused, and in the end, her focus has shifted to a much larger scope than she had started with… though I won't give you any spoilers there. She is an outcast in this world, but also a talented spy, with firm conviction and amazing skill. I liked moving to her perspective, have her view of Peter to balance with Peter's view of her world. It was fantastic writing, as you would really tell the difference between whose mind you were in.
The relationship between the two of them just works. There's a chemistry there – nothing sexual – just a great match and great teamwork. While Peter and Melni didn't always see eye to eye, they managed to plan (which Peter hates) and get the job done. I am so glad to have read a great book without a weird love story to set it off balance: their relationship only served to add balance to the novel.
But my favorite thins about Zero World isn't the plot or the characters – as awesome as they are – but the world building. My gosh! Creating this alternate Earth, a new history, with depth, huge events, small events, thinking all the way down to clothes and architecture, even considering the ethnic diversity of the population, and the discrimination! A work of art. The language, however bugged me – why are "shoes" now called "Treadmellows" but "boots" are still boots? It probably shouldn't bother me, it's such a small detail. But with all the attention everywhere else, it made me laugh just a little bit.
Now this book also comes with an entire novella, which is awesome as well. But reading on kindle, I was at 75% when the novel ended – I was shocked! I thought it had more to go! I think i even yelled at the book for ending too soon. I may be greedy, but I was more! I'm very excited for the sequel, which I hope comes out soon.
Zero World comes out August 18th. Be sure to pick it up – though I know you'll never put it down.
On another note, the reason we didn't write last week was because we both decided to take a week off and spend time with out families. Happy summer everyone!