by Jennifer Lynn Barnes
Reviewed by SA
A young adult political thriller. Do I have your attention yet? If that's not enough to get you rushing to pick up this book, stick around, because I have so many reasons you will love The Fixer. It's smart, exciting, intriguing, and, most importantly fun. It's another one of those books that you can read quickly, but it somehow stays with you for a long while.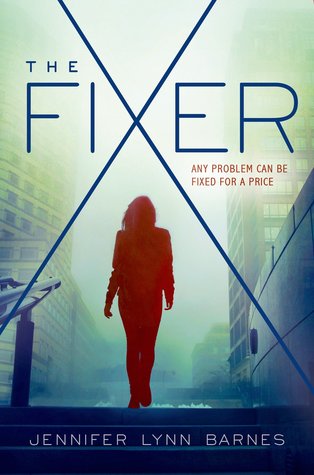 Summary 
Since her parents death, all Sixteen-year-old Tess Kendrick has known has been her grandfather's ranch. Her grandfather, however, is starting to forget things, and it's becoming harder and harder for Tess to cover for him. She wants nothing more than to stay by his side, but her estranged sister, Ivy, a mysterious big-wig from D.C., has other plans for them. 
When Tess is uprooted and thrown into the capital, she's tossed into a world of politics and power. Ivy is a fixer: when someone with a name wants a problem solved, the name on their lips is Ivy Kendrick. One of those problems is Tess; Ivy manages to enroll her, somehow, into Hardwicke Academy, home of the children of the biggest names in D.C.. And some of those children have bigger problems than their parents could ever imagine…
The rich and powerful have skeletons in their closets, and a conspiracy starts to take shape, one that Tess isn't sure she can fix. Things are going to get… complicated.
I wasn't sure what to expect when I first picked up this book. I saw it compared to "Scandal meets Veronica "Mars, though since I've never seen an episode of either, it wasn't much of a reference. All I knew was "teenage girl solves political problems"…  so not much to go on. Which made the whole experience all the more awesome: I had nothing to compare it to, so everything was extremely new. But imagine you had a teenager who was onto everything going on in house of cards. A different perspective, making everything new.
Tess herself is one of those smart protagonists who proves she can be resourceful… and smart enough to talk to people with more experience when things get out of hand. Dealing with such intricate political schemes when having no experience in the political world means you need backup: and trusting in the people around you is not a trait many YA protagonists use. She never plans on becoming a fixer, but she has such a heart, and a hatred of bullies, that she can't help but step in for others.
And Tess's friends she makes at Hardwicke are awesome, and I mean awesome. Many main characters are POC and pretty badass. They have their own skills and talents, and support Tess, becoming a strong team. Just as Ivy has her own team, Tess somehow inadvertently builds one around herself. It's fun to see those worlds collide: Ivy and her team, with Tess and her own.
The conspiracy starts as something you think could have a simple answer: but it quickly grows into something much, much larger. And it's not something you can solve, or even theorize, by yourself. Almost like a Sherlock Holmes novel, you need to work out the problem using the few clues at your disposal, which you only uncover by following Tess's own – at first reluctant – investigation. You won't see the twists coming.
Some things seem a little unrealistic, however. For example, the first Lady who keeps showing up and showing an interest in Tess. Or the ease with which some of the mysteries are solved and resolved. Then again, this is meant to be a fun YA novel, so I'm going to let that slide: the book was fun all the same.
The Fixer seems like the beginning of something great. I an excited to read the sequel, and would love to see this turned into a show – a House of Cards crossed with Alex Rider and maybe Pretty Little Liars. It's a fun, smart novel that keeps you hooked until the end.
Assorted Musings 
So there's this HUGE twist at the end, which somehow I managed to see coming. All this because I read a book in middle school about this boys, his show chickens, and his sister, the exotic dancer named Dawn. So now every time I see characters with that kind of age difference I expect that twist. Dangit book-whose-name-I-can't-remeber!
I totally imagine Ivy looking like Kristen Bell, for some reason. Why? No idea.
YESSSS for no forced Romance! I thought there would be but NOPE.
THAT ENDING. I really need a sequel STAT!