By Tiny Cooper David Levithan 
Reviewed by SA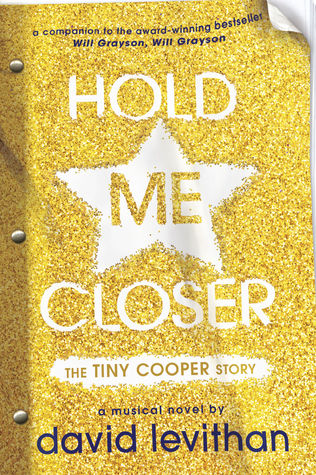 Get ready to sing! Tiny Cooper, the not-so-tiny and incredibly gay teenager who stole our hearts in Will Grayson, Will Grayson (David Levithan and John Green, 2010) is back, and this time… it's musical. A companion piece to Will Grayson, this fabulous book brings to life the play Tiny has spent his life writing, filled with song, heartfelt truths, and intricate choreography. And the ghost of Oscar Wilde is there too.
Summary
Jazz hands at the ready! Tiny Cooper ("the world's largest person who is also really, really gay") stole readers' hearts when he was introduced to the world in the New York Times bestselling book Will Grayson, Will Grayson, co-authored by John Green and David Levithan. Now Tiny finally gets to tell his story—from his fabulous birth and childhood to his quest for true love and his infamous parade of ex-boyfriends—the way he always intended: as a musical! Filled with honesty, humor, and "big, lively, belty" musical numbers, the novel is told through the full script of the musical first introduced in Will Grayson, Will Grayson.
I will start right here by saying that your probably have to have read WGWG before reading Hold Me Closer  to really enjoy it. A lot of the themes from the original novel are evoked, and there are many references to events that transpired, and characters we met before. There are also a few inside jokes (if you want to call them that) that will have you laughing out loud… if you're in on them. So drop what you're doing and read Will Grayson, Will Grayson, which is also a great book, but I won't be reviewing that right now.
Tiny Cooper is a young gay man with a huge heart and a whole slew of personal questions. Like most teenagers, he struggles with identity and, well, love. He has a whole slew of exes – a chorus of them, actually – and each has something to say about his inadequacies. Or sing. While Tiny shares his life story with us – from birth, to coming out, to his final ex up until now – he also shares with us his hopes, his fears, and the advice he has learned from people around him.
The lesson is clear: You must learn to love yourself before you love anyone else. Tiny learns this early on, but takes a while to actually live by it. There are a few amazing quotes which I think are perfect for teens to hear, as it is a lesson for the ages. This gave the book an honest quality to it, a certain reality that made it so approachable.
Hold me Closer is an actual script, a functioning script: just add tunes! It would be incredible to see a high school perform it. It's fun to read the songs and put your own music to them; to imagine the musical in all the glory Tiny would have wanted it to have. The interesting thing is how Tiny speaks to us, the reader, through both his asides to the audience, but also his stage directions. Sometimes you feel a brutal honesty there, as if there is more going on that he would like to let on; it encourages an intimacy with Tiny, a glimpse into his mind, which we wouldn't have if we were just watching the show.
All in all? A perfect companion piece, but also a great play in its own right. Tiny cooper's story is about as tiny as he is. When reading Will Grayson, Will Grayson, it was Tiny who stole the show, and I'm so glad he finally has his spotlight and time to shine. I want to put this book in the hands of any young teen who passes my way.
Hold me closer, Tiny Cooper, and belt your song out for everyone to hear.